L'Oreal Ukraine bring a younger audience to the hair colour category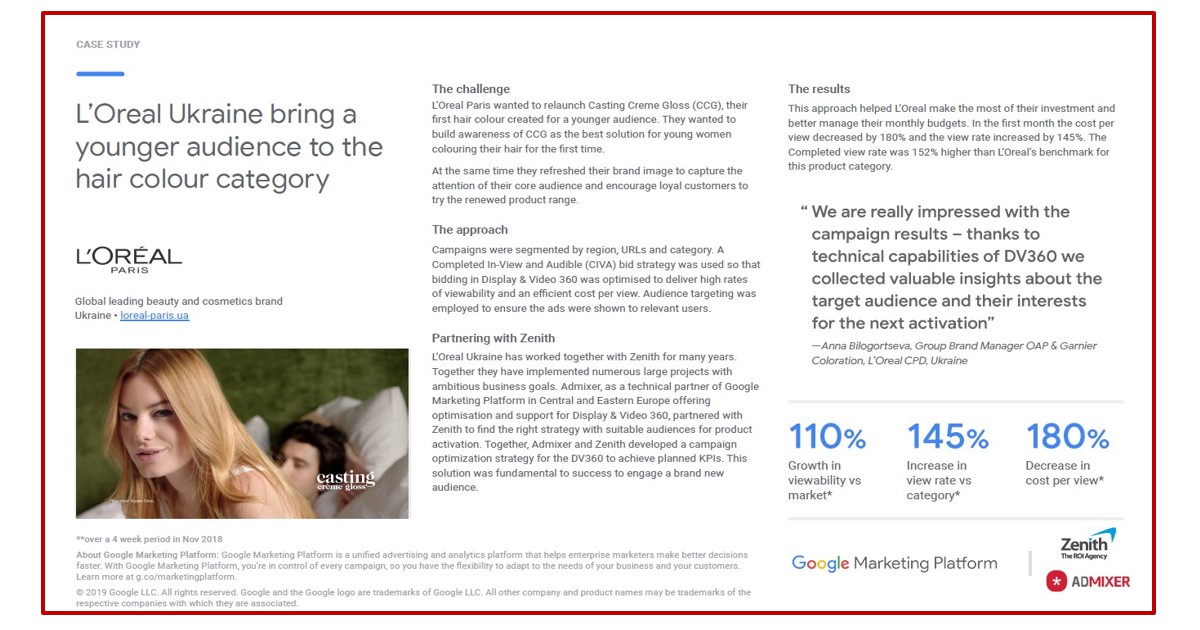 The challenge
L'Oreal Ukraine wanted to relaunch Casting Creme Gloss (CCG), their first hair colour created for a younger audience. They wanted to build awareness of CCG as the best solution for young women colouring their hair for the first time.
At the same time they refreshed their brand image to capture the attention of their core audience and encourage loyal customers to try the renewed product range.
The approach
Campaigns were segmented by region, URLs and category. A Completed In View and Audible (CIVA) bid strategy was used so that bidding in Display & Video 360 was optimized to deliver high rates of viewability and an efficient cost per view. Audience targeting was employed to ensure the ads were shown to relevant users.
Partnering with Zenith
L'Oreal Ukraine has worked together with Zenith for many years. Together they have implemented numerous large projects with ambitious business goals. Admixer, as a technical partner of Google Marketing Platform in Central and Eastern Europe offering optimization and support for Display & Video 360, partnered with Zenith to find the right strategy with suitable audiences for product activation. Together, Admixer and Zenith developed a campaign optimization strategy for the DV360 to achieve planned KPIs. This solution was fundamental to success to engage a brand new audience.
The results
This approach helped L'Oreal make the most of their investment and better manage their monthly budgets. In the first month the cost per view decreased by 180% and the view rate increased by 145%. The Completed view rate was 152% higher than L'Oreal's benchmark for this product category.
"We are really impressed with the campaign results – thanks to technical capabilities of DV360 we collected valuable insights about the target audience and their interests for the next activation"
– Anna Bilogortseva, Group Brand Manager OAP & Garnier Coloration, L'Oreal CPD, Ukraine
110% growth in viewability vs market
145% increase in view rate vs category
180% decrease in cost per view