Burger King Belarus boosts performance with Search Ads 360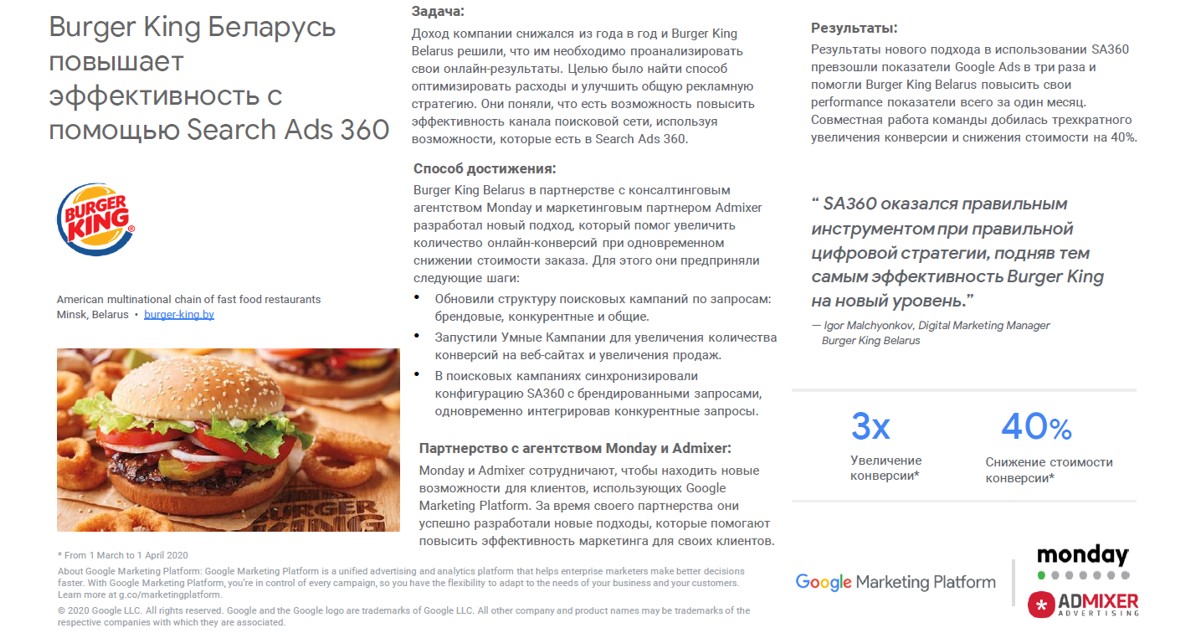 The challenge
After seeing revenues decline year over year, Burger King Belarus realised that they needed to analyse their online performance. The goal was to find a way to optimise spend and improve their overall digital strategy. They realised that there was an opportunity improve efficiency within the search channel, utilising capabilities that existed within SA360.
The approach
Burger King Belarus partnered with consulting agency Monday and marketing partner Admixer to develop a new approach that would help boost online conversions while reducing cost per order. To do this, they took the following steps:
● Upgraded the search campaigns structure by queries: branded, competitive and general.
● Launched Smart Campaigns to increase website conversions and drive more sales
● For search campaigns, they synced the SA360 configuration with branded queries, whilst integrating competitive queries
Partnering with Monday and Admixer
Monday and Admixer work in partnership to find new opportunities for clients using Google Marketing Platform. Throughout their partnership, they have successfully developed new approaches that help improve marketing effectiveness for their customers.
The results
The results of the smart use of SA360 outperformed Google Ads by three times and helped Burger King Belarus boost its digital performance in just one month. The team achieved a three-fold increase in conversions, and a 40% decrease in cost per order.
" SA360 appeared to be the right tool following the right digital strategy, therefore taking Burger King's performance to the next level."
— Igor Malchyonkov, Digital Marketing Manager Burger King Belarus
3x Increase in conversions
40% Decrease in cost per order