METRO Cash & Carry Ukraine boosts ROI and cuts CPO using Search Ads 360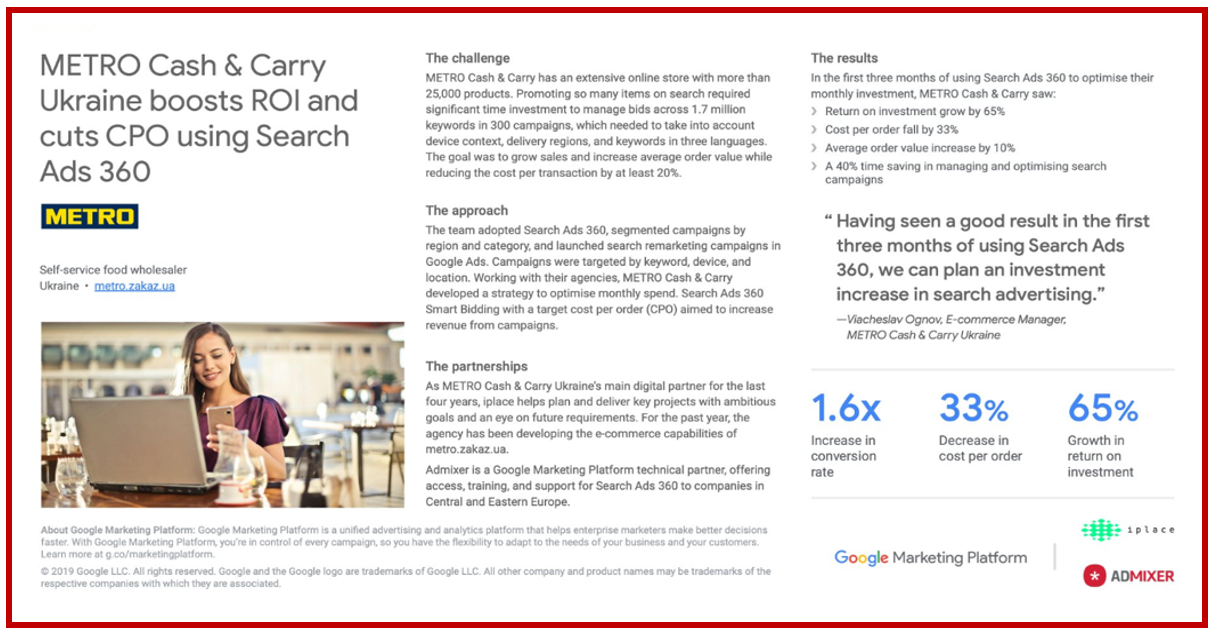 The challenge
METRO Cash & Carry has an extensive online store with more than 25,000 products. Promoting so many items on search required
significant time investment to manage bids across 1.7 million keywords in 300 campaigns, which needed to take into account
device context, delivery regions, and keywords in three languages.
The goal was to grow sales and increase average order value while reducing the cost per transaction by at least 20%.
The approach
The team adopted Search Ads 360, segmented campaigns by region and category, and launched search remarketing campaigns in
Google Ads. Campaigns were targeted by keyword, device, and location. Working with their agencies, METRO Cash & Carry
developed a strategy to optimise monthly spend. Search Ads 360 Smart Bidding with a target cost per order (CPO) aimed to increase
revenue from campaigns.
The partnerships
As METRO Cash & Carry Ukraine's main digital partner for the last four years, iplace helps plan and deliver key projects with ambitious
goals and an eye on future requirements. For the past year, the agency has been developing the e-commerce capabilities of metro.zakaz.ua.
Admixer is a Google Marketing Platform technical partner, offering access, training, and support for Search Ads 360 to companies in Central and Eastern Europe.
The results
In the first three months of using Search Ads 360 to optimise their monthly investment, METRO Cash & Carry saw:
Return on investment grow by 65%
Cost per order fall by 33%
Average order value increase by 10%
A 40% time saving in managing and optimising search campaigns
"Having seen a good result in the first three months of using Search Ads 360, we can plan an investment increase in search advertising."

— Viacheslav Ognov, E-commerce Manager,
METRO Cash & Carry Ukraine
Case results:
1.6x Increase in conversion rate
33% Decrease in cost per order
65% Growth in return on investment